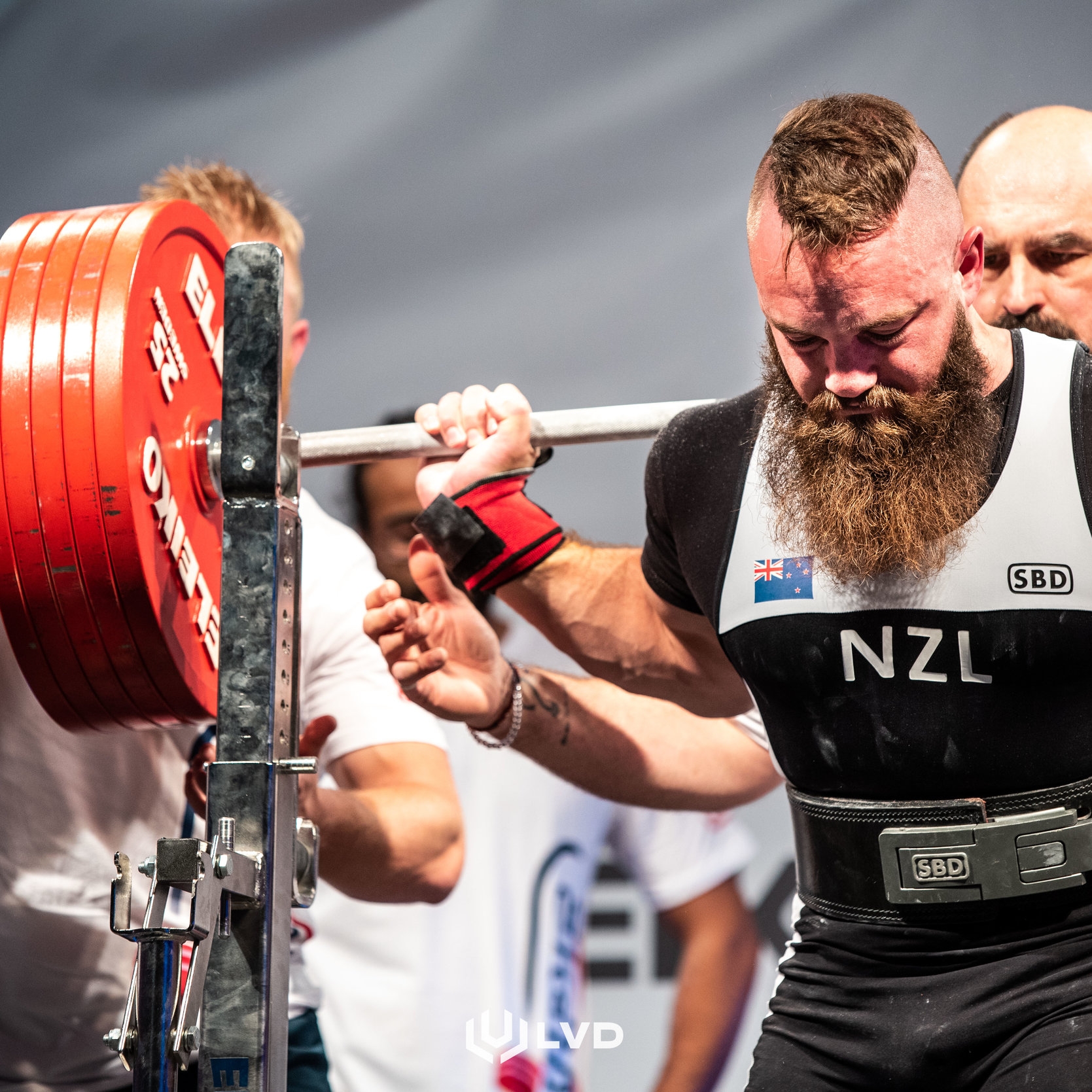 BRETT GIBBS
World Champion Powerlifter - IPF open 2015/2018 | Junior 2014

I met with Laurent and the team immediately after partially tearing my quad while squatting one day. They really made me feel welcome at ONI, scheduling me in very quickly and ensured I was doing everything I could to get back to 100% ASAP which was the most important thing for me.
Setting expectations, explaining potential causes and rehabilitation exercises in a clear and concise manner really set me up for what was a hugely successful rehab of the torn quad. A mere 8 weeks later I was able to squat the World Record of 299kg @ 83kg body weight with confidence.
Had I not gone to ONI right away I 100% doubt I would've been able to achieve that result. I want to thank you guys for all of the help and effort you put into sports rehab and development of athletes as a whole.
Luke Fiso
4 X CROSSFIT PACIFIC REGIONALS ATHLETE
Laurent and the team at ONI are awesome, they helped keep our athletes healthy through the CrossFit Open and helped me personally prepare for the 2018 CrossFit Pacific Regionals. Laurent is so passionate about creating good movement and developing world-class athletes.
Jared Beckett
IPF Powerlifter | 3 X NZ National Champ | Oceania Champ 2014 & 2016
I'm lifting mostly pain free for the first time in months now and it's thanks to ONI, and I'm stoked to say I'll be working with them. If you're having flexibility or pain issues then hit them up – it's cool to be hardcore but pain shouldn't be a feature of your lifting.
Sam Andrews
IFBB Pro |2014 NZIFBB Nationals Overall Men's Physique (Pro Card)
If you're looking to make better movements in training, leading to all round better engagement and effective use of muscle, get in touch with ONI. I've learnt a ton from them about the importance of mobility!
Wade Phillips
IPF Powerlifter
It's been awesome working with Laurent. Working on my weaknesses has been one of the best advantages of working with Laurent, aiming to make my approach to Powerlifting the most well-rounded and bulletproof to get me to the world stage in the future.
Michael 'Magic' Mikaere
5 x CrossFit Games Regional Individual
It's been great to be able to get in to ONI and get on the Assault Air Runner in preparation for this year's CrossFit Games Regionals. Outside of the running aspect, we've been working on my movement, uncovering deficiencies in certain patterns, which has been amazing for training so far and ensuring longevity.
BRIGITTE
I can see the difference between three weeks ago and now. Three weeks ago a burpee was a terrible exercise and now I actually get a little bit of jumping in!
And the massage was just absolutely stunning, probably the best massage that I've had since I've come to NZ. It was really focusing on where the problem was and dealing with the problem in an appropriate manner.
Abe Winter-Beard
Teaching Assistant
The special attention that I've received though having people around me, who know what they're doing, has actually given me an insight into a future of pain free living.
ALMA
ONI has really transformed how I approach fitness. It's not just going for weights, not just going for cardio, but the whole balance of the body, how we move, and how we function. I'm getting a lot out of it and I'm looking forward to more.
BRIGITTE LEGG, Flight Attendant
I love how the focus isn't just on getting sweaty and lifting as heavy as you can. Liam really focuses on building foundations & strengthening basic mechanics of your body. Every session I come away with more knowledge of how my body moves. His knowledge and passion for his role is evident & only growing as he expands. I highly recommend for every age & strength level. A welcoming and hardworking environment!
Vanessa Powell, Manager at Robert Walters
I came to Michael Lahood with serious issues around the ligaments in my knees and at the time, I was unable to walk properly. He did significant work around mobility and strengthening in order to make sure I not only was able to walk again, but recently I completed an eight hour trek for the first time in 6 years. I also suffered from migraines and with the help of his management through exercise and trigger release I have been able to happily say these are almost a thing of the past. If you want a trainer who listens to you, understands injury and actually genuinely cares about your recovery then I would definitely recommend Michael.
TAISON PELMAN, INTERNATIONAL MENS ULTIMATE PLAYER
Liam is a great trainer who puts a lot of time and effort into his clients, helping them become the best they can be. His focus on correct form and movement helps prevent injuries and strains, and his positive and fun attitude makes every session an absolute blast.
GLYNIS NG, PHARMACY ASSISTANT
I have been going to Jules Browne for massage therapy (both deep tissue and relaxation) over the past year. Jules has provided me with excellent massage service. She is knowledgeable, professional and a caring and friendly person.
FATI TAGOAI, SOCIAL WORKER
Juliana Browne has a high ethic for professional practice. She is warm, friendly and client-centred. Juliana brings an element of bi-culturalism to her practise by fusing her ancestral Polynesian techniques with modern day therapy. Highly recommend.
BERNADETTE PATELESIO, ANALYST
Jules Browne has been my therapist for several months now. I have plantar faciitis and in addition to providing relief from the pain, she has helped me to understand the causes and symptoms better. She is spectacular at what she does and so knowledgeable and respectful.
SAM AH KIT, Chef
My first session today with Laurent was really informative. I learnt how and why my body was not functioning correctly. In one session I learnt more about my movements or lack of and I can see how it's held back full mobility and been in pain. As they say.. do it! These guys are awesome.
Sally Neal, International Women's Ultimate Player
Liam's knowledge and expertise has been invaluable in getting our team prepared for the World Championships later this year. He is careful to spend time with each athlete when running a group session, and ensures that they are moving as they should while providing useful feedback along the way. The training plans he has developed for our team are well thought out and tailor made for the movements we need most - also providing adjustments for any injuries that teammates are carrying. Liam is fantastic - can't recommend him enough!
EDD GOUGH, ARCHERY COACH
I have been training with Laurent for 6 months now, and have noticed a huge improvement in my strength, fitness, and mobility. I gained movement I didn't know I'd lost and it's made my lifts more effective and stopped my lower back pain. My archery has hugely improved in performance as a result as well. Laurent has helped me smash through a plateau I was stuck in for a long time, as someone who isn't a fan of cardio or running for hours on a treadmill, Laurent was exactly what I've been looking for in a personal trainer: committed, knowledgeable, and creative.
WENDY DROWER, NURSE
Laurent has been my personal trainer for the last 15 months. It has and will continue to be a positive experience. I was very unfit when starting out but can now deadlift, squat, lunge and plank safely. I have learnt heaps about how the body works. He is a great inspiration to me.
Simply fill in the form below to book in your FREE consult to see how we can best help you achieve your goals!